In 1988, George Bell contacted his long-lost cousin James G. Yancer to find out if their great grandfathers were really related. Thomas Jefferson Yencer and James A. Yancer were sons of Benjamin F, Yencer. Tom became known as Thomas Jefferson Bell after the Civil War. The result was Six Brothers from Hinsdale.

David and Linda in Italy
The next stop was Smolice, Poland and telling George's mother's story in The Giermeks in America. Then, Linda and David helped to research Jean's father's story in Italy, published as The Planos from Piedmont.
Now the whole family became involved in completing the fourth book, The Pancios from Galicia about Jean's mother's Russian heritage.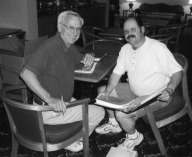 Town halls and libraries opened their doors in New York, Ohio, Michigan and Pennsylvania. The Hoyt Library in Saginaw, Michigan, was a mother lode of information about Horace Yancer's descendants.
And during the Michigan visit, Wil Yancer shared famillly data that he had already collected.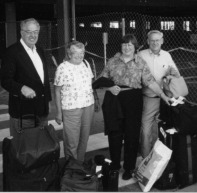 Suddenly, it seemed as if our grandchildren would have a lopsided history. So, we teamed up with their other grandparents and headed off to find their other roots. We went to Ireland with Bob and Ruth Conway to tell the story of The Conways of Ireland: Descendants of John Conway of Waterford, Ireland.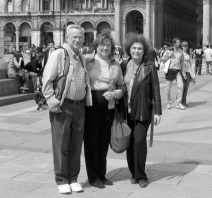 We also set off with Raquel Persoglia to trace lines of migration from Italy to Argentina. The line followed Raquel's daughter to California where she and our son live with two of our grandchldren.
During this time, the mountain of Yencer and Yancer data grew. George typed and typed the biographies; Jean began the work of styling the books and finding illustrations.


We were lucky to meet Lena Manning who shared her collection of Sam Yencer's Civil War memorabilia kept by the Blanchard family.


Virginia Kelley DeMarte is an example of the people who went out of their way to fill in data on an entire family.
Without these and other historian partners, our books would not be as complete and surely not as vibrant. We are thankful for them!

[Much of this account is found on page A-24 of Part 1: Yentzer, Yencer & Yancer.]