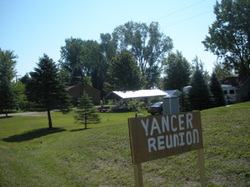 Happy New Year (plus Valentine's Day and almost, St. Pat's)!
One highlight of our year 2012 was attending, in August, The Yancer Family Reunion at Greg Yancer's in Michigan. Except for Wilbur, we had not met anyone before. What a warm welcome we received. We stayed in Greg and Jan's fifth wheeler with all the comforts of home, and being on the premises did not miss a moment of the action. Some of the kids were interested in finding out about their ancestors and seeing their own names in a book.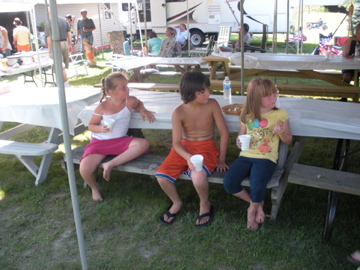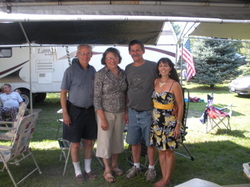 This is us with Greg and Jan.
They really pulled together a lot of detail. They arranged for camping on the lot next to theirs, so many family members had the convenience of 24/7 visiting.
A dish-to-pass meal and camp breakfast the next day was perfect.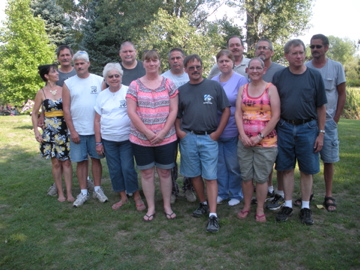 The above group is Greg's siblings and their spouses. His mother Shirley (wife of Spark Yancer) is in the sunglasses. They are all descendants of Horace Yancer, who moved from New York state to Michigan in 1846 at the age of 13. Their stories are told in Yentzer, Yencer & Yancer, Part 1.

________________________________________________________________________
For This year, we have decided to again feature the Yencer-Yancer-Bell series of books, at a lower price, through the Fourth of July.
Four Books on Sale - Any 2 for $50 + postage
*** Until July 4, 2017 *** Add Postage - $6 per book
Yentzer, Yencer & Yancer: An American Family History - Part 1 (2009) $30
Yentzer, Yencer & Yancer: An American Family History - Part 2 (2010) $30
Thomas Jefferson Yencer alias Bell: Civil War Pension Record (2007) $30
Six Brothers From Hinsdale - Bell Family History (1991) $30
[Any one book is still $30 plus $6 each for shipping]
____________________________________________________________________
ORDER these books by JuLy 4, 2017 for the special pricing.
Check payable to Wayne & Ridge Publishing
SEND ORDER, how many, your address, and payment to:
Wayne & Ridge Publishing
1941 Ridge Road
Ontario, New York 14519